COPAFS News
FCSM Registration is Open
Registration for the 2023 FCSM Research and Policy Conference is open! The conference will take place October 24 thru October 26 at the College Park Marriott Hotel and Conference Center. The Early bird rates end September 30, so register soon! You can register for the conference and find out more details at fcsm2023.org.
New Leader of BJS as of August 17
Principal Deputy Director Kevin M. Scott, PhD, will serve as the head of BJS. Dr. Scott has been with BJS since 2017 and brings a wealth of subject matter expertise, statistical knowledge, and management skills. Under his leadership, BJS will continue the important work of serving as the primary statistical agency of the Department of Justice responsible for collecting, analyzing, and disseminating statistics on crime, individuals who commit crimes, victims of crime, and the operation of justice systems at all levels of government.
Alexis R. Piquero, PhD is returning to the University of Miami to resume his teaching and research career. Dr. Piquero joined BJS in August 2022.
OMB Trust Regulation: Comments due Oct 24
OMB published a Federal Register Notice of Solicitation of Comments on a proposal to modify a provision of Statistical Policy Directive No. 3 to allow Executive Branch employees to comment publicly on Principal Federal Economic Indicator data thirty minutes after the official data release time, which would replace the current wait of one hour.
The Principal Federal Economic Indicators are a set of statistical series that are widely watched and heavily relied upon by government and the private sector as indicators of the current condition and direction of the economy.
OMB recognizes the importance of an adequate delay to ensuring a "bright line" between the data release by a U.S. federal statistical agency and a policy interpretation on the data; however, OMB also recognizes there have been many changes and accelerations in the way we communicate within and across society.
This Notice is available at https://www.federalregister.gov/documents/2023/08/25/2023-18313/statistical-policy-directive-no-3-compilation-release-and-evaluation-of-principal-federal-economic.
The public comment period is now open through October 24, 2023. Public input is important and needed to help inform OMB's final determination. Comments can be submitted on regulations.gov under Docket ID "OMB-2023-0016" and you can reach to OMB with any questions at Statistical_Directives@omb.eop.gov.
Upcoming Events
COPAFS Quarterly Meeting: September 8
COPAFS will hold its next Quarterly Meeting on Friday, September 8, 2023. This will be a virtual meeting and the agenda will be posted in August.
Trust Regulation Webinar: September 7
The Office of Management and Budget published a proposed rule on August 18 with potentially substantial positive ramifications for the Federal statistical system. Officially titled, "Fundamental Responsibilities of Recognized Statistical Agencies and Units," the "Trust Regulation" proposes numerous provisions to promote public trust in the recognized Federal statistical agencies and units that produce Federal statistics.
Chief Statistician of the US Karin Orvis and Sr Statistician Kerrie Leslie will overview and respond to questions on the regulation, which is key milestone in implementing Title III of the Foundations for Evidence-Based Policymaking Act of 2018 (Evidence Act).
This webinar is free but registration is required: https://amstat.zoom.us/webinar/register/WN_B2D6hA2XTFq3vEysfDcaewb
2023 FCSM Conference: October 24-26
The 2023 FCSM Research and Policy Conference will be held October 24-26, 2023 at the College Park Marriott Hotel & Conference Center in Hyattsville, MD. To register for the conference, click here.
2023 APPAM Fall Conference: November 9-11
The 2023 Association for Public Policy Analysis and Management's Fall Conference will take place on November 9-11, 2023 in Atlanta, GA. The theme of the conference is "Policy that Matters: Making Public Services Work for All". For more information, click here.
Agency Releases
Bureau of Economic Analysis (DOC)
On August 30, GDP, Second Quarter 2023 (Second Estimate) and Corporate Profits (Preliminary) was released. Real gross domestic product (GDP) increased at an annual rate of 2.1 percent in the second quarter of 2023. In the first quarter, real GDP increased 2.0 percent. The GDP estimate is based on more complete source data than were available for the "advance" estimate issued last month. In the advance estimate, the increase in real GDP was 2.4 percent. The updated estimates primarily reflected downward revisions to private inventory investment and nonresidential fixed investment that were partly offset by an upward revision to state and local government spending.
On August 18, Activities of US Affiliates of Foreign Multinational Enterprises, 2021 was released. Majority-owned U.S. affiliates of foreign multinational enterprises employed 94 million workers in the United States in 2021, a 2.9 percent increase from 7.71 million workers in 2020, according to statistics on U.S. affiliate operations and finances. Majority-owned U.S. affiliates accounted for 6.2 percent of total private-industry employment in the United States in 2021, down slightly from 6.3 percent in 2020. By industry, employment was largest in manufacturing and in retail trade. Majority-owned U.S. affiliates with ultimate owners in the United Kingdom, Japan, and Germany were the largest contributors to employment.
Bureau of Justice Statistics (DOJ)
On August 17, BJS announced that Piquero is returning to the University of Miami to resume his teaching and research career. Dr. Piquero joined BJS in August 2022. During his time as director, Dr. Piquero elevated BJS's public profile by engaging with stakeholders to share information about the scope and value of statistics produced by BJS. Under his leadership, BJS launched new data visualization features and a new report series, Just the Stats, aimed at presenting important data on key crime and justice questions in easily digestible ways. Principal Deputy Director Kevin M. Scott, PhD, will serve as the head of BJS. Dr. Scott has been with BJS since 2017 and brings a wealth of subject matter expertise, statistical knowledge, and management skills. Under his leadership, BJS will continue the important work of serving as the primary statistical agency of the Department of Justice responsible for collecting, analyzing, and disseminating statistics on crime, individuals who commit crimes, victims of crime, and the operation of justice systems at all levels of government.
Bureau of Labor Statistics (DOL)
On August 29, Job Openings and Labor Turnover – July 2023 was released. The number of job openings edged down to 8.8 million on the last business day of July. Over the month, the number of hires and total separations changed little at 5.8 million and 5.5 million, respectively. Within separations, quits (3.5 million) decreased, while layoffs and discharges (1.6 million) changed little. This release includes estimates of the number and rate of job openings, hires, and separations for the total nonfarm sector, by industry, and by establishment size class.
On August 23, County Employment and Wages – First Quarter 2023 was released. From March 2022 to March 2023, employment increased in 325 of the 360 largest U.S. counties. In March 2023, national employment increased to 151.4 million, a 2.5-percent increase over the year, as measured by the Quarterly Census of Employment and Wages (QCEW) program. Midland, TX, had the largest over-the-year increase in employment, with a gain of 8.5 percent. Employment data in this release are presented for March 2023, and average weekly wage data are presented for first quarter 2023. Among the 360 largest counties, 353 had over-the-year increases in average weekly wages. In the first quarter of 2023, average weekly wages for the nation increased to $1,465, a 6.6-percent increase over the year. Clayton, GA, had the largest first quarter over-the-year wage gain at 24.3 percent.
Bureau of Transportation Statistics (DOT)
On August 31, BTS released its monthly update to National Transportation Statistics (NTS), a guide to historical national-level transportation trends. This month's updated data tables include U.S. Public Road and Street Mileage by Functional System, Condition of Urban Bus and Rail Transit Maintenance Facilities, Age and Availability of Amtrak Locomotive and Car Fleets, Roadway Vehicle-Miles Traveled and Passenger Miles Traveled, Airport Screening, State Laws on Distracted Driving, Modal Operating Revenues, Amtrak Fuel Consumption and Travel, and Air Pollution Trends.
On August 10, Passenger Enplanements, Domestic and International – May 2023 was released. U.S. airlines carried 81.8 million systemwide (domestic and international) scheduled service passengers in May 2023. When adjusted for seasonality, May enplanements are down 1.7% from April and down 5.5% from the all-time high reached in January 2020. BTS reported 71.4 million domestic passengers and 10.4 million international passengers on U.S. airlines flights in May, not adjusting for seasonality. Systemwide enplanements (81.8M) reached a new all-time high for the month of May, not adjusted for seasonality.
Census Bureau (DOC)
Census will hold a webinar on Release of 2020 Census Detailed Demographic and Housing Characteristics File A on September 13 at 1PM Eastern. Census staff will discuss the Detailed DHC-A to be released to the public on Sept. 21. This product provides population counts and sex by age statistics for approximately 1,500 detailed racial and ethnic groups, such as German, Lebanese, Jamaican, Chinese, Native Hawaiian and Mexican, and detailed American Indian and Alaska Native (AIAN) tribes and villages like the Navajo Nation.
On August 10, 2022 Geographic Mobility Tables from the CPS were released. The release also includes updates to historical tables and graphs. These new statistics come from the 2022 Current Population Survey Annual Social and Economic Supplement (CPS ASEC). The newly released 1-year table package includes detailed information about types of moves from one location of residence to another during the previous year, characteristics of people who moved, and the main reason(s) for moving. Estimates for some of these breakouts are available in the historical tables and graphs and date back to 1948.
Economic Research Service (USDA)
On August 17, How Mexico's Horticultural Export Sector Responded to the Food Safety Modernization Act was released. ERS researchers conducted interviews with Mexican horticultural growers focused on the export market to explore how their industry responded to the new requirements of the Food Safety Modernization Act (FSMA). Half of the 26 companies interviewed identified training the head of the firm's food safety program as the main challenge in complying with the act. Medium-to-large companies (300–1,000 seasonal workers) were more likely to have modified their food safety activities and to hold 3 or more food safety certifications—facilitating the sector's growing presence in the U.S. market.
On August 29, International Food Security Assessment 2023-2033 was released. Food security is estimated to improve in 2023 in the 83 low- and middle-income countries examined by USDA's Economic Research Service in the International Food Security Assessment. Due to growth in per capita income and the easing of international and domestic food commodity prices, 228.9 million fewer people will face food insecurity relative to 2022. However, estimated food insecurity remains elevated due to the lingering effects of the Coronavirus (COVID-19) pandemic, high food commodity prices, and risks associated with the ongoing Russian military invasion of Ukraine.
Energy Information Administration (DOE)
On August 28, the United Arab Emirates Country Analysis Brief was released. The United Arab Emirates (UAE) was the seventh-largest total liquid fuels producer in the world in 2022 and the third largest in the Organization of Petroleum Exporting Countries (OPEC). UAE joined in 1967 and is currently one of only two members that has notable spare crude oil production capacity to address potential supply shortfalls. The UAE has invested heavily in increasing hydrocarbon production capacity and developing midstream and downstream infrastructure to accommodate future growth in hydrocarbon production. At the same time, the UAE has increasingly focused on developing nonhydrocarbon energy sources such as nuclear and renewables and on increasing its influence in environmental leadership and climate action.
On August 22, the Domestic Uranium Production Report – Second Quarter 2023 was released. U.S. production of uranium concentrate (U3O8) in the second quarter of 2023 totaled 7,443 pounds U3O8. This quarter's total uranium production occurred at three facilities in Wyoming (Nichols Ranch ISR Project, Ross CPP, and Smith Ranch-Highland Operation).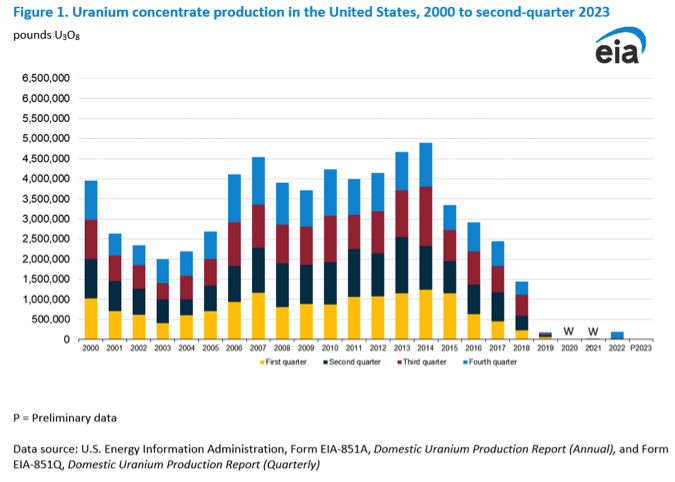 National Agricultural Statistics Service (USDA)
On August 11, the Crop Production Report was released. The report forecasted corn production up from 2022 and soybean production down from last year. Corn production is up 10% from last year, forecast at 15.1 billion bushels; soybean growers are expected to decrease their production 2% from 2022, forecast at 4.21 billion bushels. Average corn yield is forecast at 175.1 bushels per acre, up 1.8 bushels from last year. NASS forecasts a record-high yield in Indiana. As of July 30, 55% of this year's corn crop was reported in good or excellent condition, six percentage points below the same time last year.
On August 8, it was announced that NASS will review all available data, including survey data and the latest information from USDA's Farm Service Agency and Risk Management Agency, for planted and harvested acreage for barley, oats, Durum wheat, other spring wheat, and winter wheat. If the data review justifies any changes, NASS will publish updated planted and harvested acreage estimates in the Aug. 11, 2023 report. NASS conducts planted and harvested acreage reviews based on administrative and survey information during the crop cycle each year as the data become sufficiently complete. Going forward, NASS will review available data for barley, oats, and wheat in August; chickpeas, corn, cotton, dry edible peas, lentils, peanuts, rice, sorghum, soybeans, and sugarbeets in September; and canola, dry edible beans, and sunflowers in October.
National Center for Education Statistics (IES)
On August 30, the Condition of Education, 2023 was released. The report contains key indicators on all levels of education, labor force outcomes, and international comparisons. The indicators summarize important developments and trends using the latest statistics, which are updated throughout the year as new data become available. Spotlight indicators provide more in-depth analyses on selected topics.
On August 16, the MGLS:2017 Restricted Access Use Data Files were released. MGLS data offers information on the characteristics and cognitive outcomes of students who were enrolled in the 6th grade in public schools in the 2017-2018 school year and two years later in spring of 2020 when most students were in the 8th grade. The MGLS data are organized into student and school folders, each containing .txt data, data input files for SAS, SPSS, Stata and R survey software packages. A .csv version of the data is also provided.
National Center for Health Statistics (CDC)
On August 24, Emergency Department Visit Rates by Selected Characteristics: United States, 2021 was released. The overall emergency department (ED) visit rate was 43 visits per 100 people in 2021. ED visit rates were highest for infants under age 1 year (103 visits per 100 infants) and adults aged 75 and over (66 per 100 people). The ED visit rate for Black or African-American non-Hispanic people (81) was the highest among the selected racial and ethnic groups.
On August 23, Drug Overdose Mortality by Usual Occupation and Industry: 46 U.S. States and New York City, 2020 was released. Drug overdose mortality varied by usual occupation and industry. Workers in the construction and extraction occupation group (162.6 deaths per 100,000 workers, 95% confidence interval: 155.8–169.4) and construction industry group (130.9, 126.0–135.8) had the highest drug overdose death rates. The highest group-level drug overdose PMRs were observed in decedents in the construction and extraction occupation group and the construction industry group (145.4, 143.6–147.1 and 144.9, 143.2–146.5, respectively).
Federal Register Notices
There were 31 federal register notices posted by federal statistical agencies from July 26, 2023 to August 25, 2023. Links to each of these notices are organized by agency below.
Bureau of Economic Analysis (DOC) – 2 New Notices
| Date | Notice | URL |
| --- | --- | --- |
| 8/9/2023 | Agency Information Collection Activities; Submission to the Office of Management and Budget (OMB) for Review and Approval; Comment Request; Direct Investment Surveys: BE-15, Annual Survey of Foreign Direct Investment in the United States | Link |
| 7/28/2023 | The Nomination of Individuals to the Federal Economic Statistics Advisory Committee | Link |
Bureau of Justice Statistics (DOJ) – 8 New Notices
| Date | Notice | URL |
| --- | --- | --- |
| 8/11/2023 | Agency Information Collection Activities; Proposed eCollection eComments Requested; 2023 Law Enforcement Administrative and Management Statistics (LEMAS) Supplement Survey-Post-Academy Training and Officer Wellness (PATOW) | Link |
| 8/9/2023 | Agency Information Collection Activities; Proposed eCollection eComments Requested; Revision of a Previously Approved Collection; Notice of Entry of Appearance as Attorney or Representative Before the Board of Immigration Appeals | Link |
| 8/8/2023 | Agency Information Collection Activities; Proposed eCollection eComments Requested; Revision of a Previously Approved Collection; OJP Solicitation Template | Link |
| 8/3/2023 | Agency Information Collection Activities; Proposed eCollection eComments Requested; Revision of a Previously Approved Collection; Investigator Quality Survey-ATF Form 8620.7 | Link |
| 8/1/2023 | Agency Information Collection Activities; Proposed eCollection eComments Requested; Extension of a Previously Approved Collection; Statement of Claim for Filing of Claims in the Guam Claims Program Pursuant to the Guam World War II Loyalty Recognition Act | Link |
| 8/1/2023 | Agency Information Collection Activities; Proposed eCollection eComments Requested; Extension of a Previously Approved Collection; Procurement Collusion Strike Force Complaint Form | Link |
| 8/1/2023 | Agency Information Collection Activities; Proposed eCollection eComments Requested; New Collection; Supervised Visitation and Safe Exchange Guiding Principles Reflection Survey for Past and Current Grantees | Link |
| 7/26/2023 | Agency Information Collection Activities; Proposed eCollection eComments Requested; Annual Surveys of Probation and Parole | Link |
Bureau of Labor Statistics (DOL) – No New Notices
Bureau of Transportation Statistics (DOT) – 1 New Notice
| Date | Notice | URL |
| --- | --- | --- |
| 8/8/2023 | Agency Information Collection Activity; Notice of Request for Approval To Collect New Information: Safe Maritime Transportation System (SafeMTS)-Voluntary Near-Miss Incident Reporting and Analysis System | Link |
Census Bureau (DOC) – 7 New Notices
| Date | Notice | URL |
| --- | --- | --- |
| 8/25/2023 | 2030 Census Advisory Committee – Seeking Nominations | Link |
| 8/25/2023 | 2030 Census Advisory Committee – Formation of Committee | Link |
| 8/17/2023 | Agency Information Collection Activities; Submission to the Office of Management and Budget (OMB) for Review and Approval; Comment Request; High-Frequency Surveys Program/Household Pulse Survey | Link |
| 8/10/2023 | Foreign Trade Regulations (FTR): State Department Directorate of Defense Trade Controls Filing Requirement and Clarifications to Current Requirements | Link |
| 8/8/2023 | Annual Integrated Economic Survey | Link |
| 8/3/2023 | Agency Information Collection Activities; Submission to the Office of Management and Budget (OMB) for Review and Approval; Comment Request; Survey of Housing Starts, Sales, and Completions | Link |
| 7/26/2023 | Agency Information Collection Activities; Submission to the Office of Management and Budget (OMB) for Review and Approval; Comment Request; Business Trends and Outlook Survey | Link |
Economic Research Service (USDA) – No New Notices
Energy Information Administration (DOE) – No New Notices
National Agricultural Statistics Service (USDA) – 2 New Notices
| Date | Notice | URL |
| --- | --- | --- |
| 8/3/2023 | Notice of Intent To Request Revision and Extension of a Currently Approved Information Collection – Livestock Slaughter Survey | Link |
| 8/3/2023 | Notice of Intent To Request Revision and Extension of a Currently Approved Information Collection – Honey and Honey Bee Surveys | Link |
National Center for Education Statistics (DOEd) – 4 New Notices
| Date | Notice | URL |
| --- | --- | --- |
| 8/25/2023 | National Board for Education Sciences | Link |
| 8/14/2023 | Final Priorities, Requirements, Definitions, and Selection Criteria-Perkins Innovation and Modernization Grant Program | Link |
| 8/14/2023 | Applications for New Awards; Perkins Innovation and Modernization Grant Program | Link |
| 7/31/2023 | Agency Information Collection Activities; Submission to the Office of Management and Budget for Review and Approval; Comment Request; Program for International Student Assessment 2025 (PISA 2025) Main Study Recruitment and Field Test | Link |
National Center for Health Statistics (HHS) – 7 New Notices
| Date | Notice | URL |
| --- | --- | --- |
| 8/21/2023 | Solicitation of Nominations for Appointment to the Board of Scientific Counselors, National Center for Health Statistics | Link |
| 8/21/2023 | Agency Forms Undergoing Paperwork Reduction Act Review | Link |
| 8/21/2023 | Proposed Data Collection Submitted for Public Comment and Recommendations | Link |
| 8/15/2023 | Agency Forms Undergoing Paperwork Reduction Act Review | Link |
| 8/7/2023 | Agency Forms Undergoing Paperwork Reduction Act Review | Link |
| 7/31/2023 | Board of Scientific Counselors, National Center for Health Statistics | Link |
| 7/31/2023 | National Center for Health Statistics, ICD-10 Coordination and Maintenance Committee | Link |
National Center for Science and Engineering Statistics (NSF) – No New Notice
Office of Research, Evaluation & Statistics (SSA) – No New Notices
Statistics of Income Division (IRS) – No New Notices