COPAFS News
FCSM Registration Opens July 10
Registration for the 2023 FCSM Research and Policy Conference will open on July 10. The conference will take place October 24 thru October 26 at the College Park Marriott Hotel and Conference Center. Look for more information in the coming weeks regarding registration, conference program, and sponsorship opportunities.
COPAFS.org has a new look!
Over the past couple of months, the copafs.org site has been updated both in terms of style, functionality and organization. We wanted to update the site to ensure users will find information quickly, while enhancing the visual experience. You will notice a new color (gold) added to highlight items and some additional pictures. Also the home page is now static so you can find information on the Quarterly Meeting, FCSM Conference, and Recent News efficiently. Please give the site a visit and let us know what you think!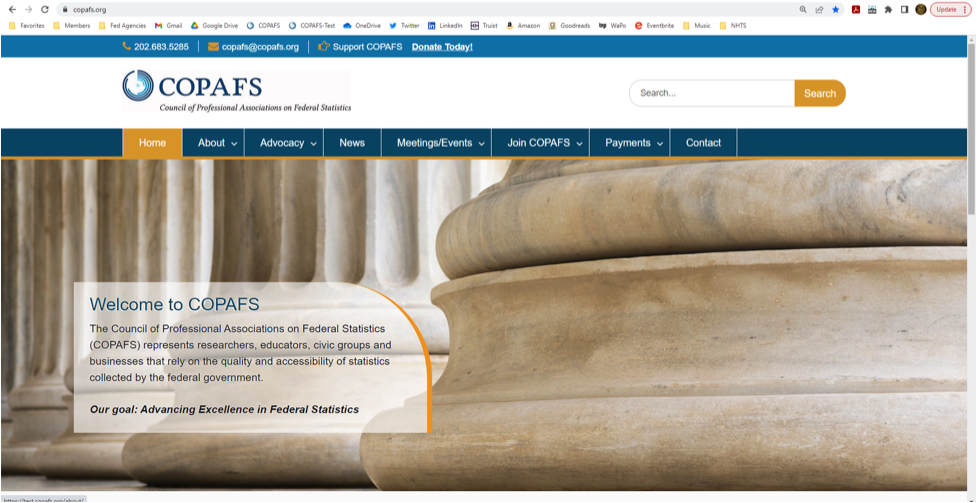 Upcoming Events
COPAFS Quarterly Meeting: September 8
COPAFS will hold its next Quarterly Meeting on Friday, September 8, 2023. The agenda will be posted in August.
RSS 2023 Annual Meeting: August 2-6
The Rural Sociological Society will hold its Annual Meeting in Burlington, VT, August 2 – 6. The theme for the conference is, "Pursuing Equity and Access in Development – Roles for Rural-Focused Public Scholars". For more information, please click here.
APA 2023 Convention: August 3-5
APA will hold its 2023 Convention in Washington, DC from August 3 thru August 5. For more information, please click here.
2023 Joint Statistical Meetings: August 5-10
The American Statistical Association and other organizations will hold the 2023 Joint Statistical Meetings in Toronto, OR from August 5 thru August 10. For more information, please click here
American Sociological Assoc Annual Meeting: August 17-21
The American Sociological Association will hold its 118th Annual Meeting in Philadelphia, PA from Aug 17 thru Aug 21. The theme for the meeting is, "The Educative Power of Sociology". For more information, please click here.
SAVE THE DATE!
The 2023 FCSM Research and Policy Conference will be held October 24-26, 2023 at the College Park Marriott Hotel & Conference Center in College Park, MD.
Agency Releases
Bureau of Economic Analysis (DOC)
Bureau of Justice Statistics (DOJ)
Bureau of Labor Statistics (DOL)
Bureau of Transportation Statistics (DOT)
Census Bureau (DOC)
Economic Research Service (USDA)
Energy Information Administration (DOE)
National Center for Education Statistics (IES)
National Center for Science and Engineering Statistics (NSF)
Federal Register Notices
There were 46 federal register notices posted by federal statistical agencies from April 26, 2023 to May 25, 2023. Links to each of these notices are organized by agency below.
Bureau of Economic Analysis (DOC) – No New Notices
Bureau of Justice Statistics (DOJ) – 17 New Notices
| Date | Notice | URL |
| --- | --- | --- |
| 5/24/2023 | Agency Information Collection Activities; Proposed eCollection eComments Requested; Extension of a Previously Approved Collection; FBI Whistleblower Request for Corrective Action Form | Link |
| 5/19/2023 | Agency Information Collection Activities; Proposed eCollection eComments Requested; Annual Survey of Jails (ASJ) | Link |
| 5/19/2023 | Agency Information Collection Activities; Proposed eCollection eComments Requested; Extension of a Previously Approved Collection; Complaint Form, Federal Coordination and Compliance Section | Link |
| 5/16/2023 | Agency Information Collection Activities; Proposed eCollection eComments Requested; New Collection; 2023 Law Enforcement Administrative and Management Statistics (LEMAS) Supplement Survey-Post-Academy Training and Officer Wellness (PATOW) | Link |
| 5/16/2023 | Agency Information Collection Activities; Proposed eCollection eComments Requested; Annual Survey of Jails (ASJ) | Link |
| 5/15/2023 | Agency Information Collection Activities; Proposed eCollection eComments Requested; Extension of a Previously Approved Collection; Semi-Annual Progress Report for the Tribal Sexual Assault Services Program | Link |
| 5/15/2023 | Agency Information Collection Activities; Proposed eCollection eComments Requested; Revision of a Previously Approved Collection; Explosives Employee Possessor Questionnaire-ATF Form 5400.28 | Link |
| 5/15/2023 | Agency Information Collection Activities; Proposed eCollection eComments Requested; Revision of a Previously Approved Collection; Explosives Responsible Person Questionnaire | Link |
| 5/15/2023 | Agency Information Collection Activities; Proposed eCollection eComments Requested; Extension of a Previously Approved Collection; Semi-Annual Progress Report for the Tribal Sexual Assault Services Program | Link |
| 5/15/2023 | Agency Information Collection Activities; Proposed eCollection eComments Requested; Revision of a Previously Approved Collection; Application for Registration of Firearms Acquired by Certain Governmental Entities-ATF F 10 (5320.10) | Link |
| 5/10/2023 | Agency Information Collection Activities; Proposed eCollection eComments Requested; Extension of a Previously Approved Collection; Application for Alternate Means of Identification of Firearm(s) (Marking Variance)-ATF Form 3311.4 | Link |
| 5/10/2023 | Agency Information Collection Activities; Proposed eCollection eComments Requested; Revision of a Previously Approved Collection; Notice of Firearms Manufactured or Imported-ATF Form 2 (5320.2) | Link |
| 5/9/2023 | Agency Information Collection Activities; Proposed eCollection eComments Requested; Extension of a Previously Approved Collection; Application for Certificates of Pardon for the Offense of Simple Possession of Marijuana-E.O. | Link |
| 5/5/2023 | Agency Information Collection Activities; Proposed eCollection eComments Requested; Extension of a Previously Approved Collection Application for Certificates of Pardon for the Offense of Simple Possession of Marijuana-E.O. | Link |
| 5/4/2023 | Agency Information Collection Activities; Proposed eCollection eComments Requested; Data Security Requirements for Accessing Restricted Data | Link |
| 5/1/2023 | Agency Information Collection Activities; Proposed eCollection eComments Requested; Revision of a Currently Approved Collection; Annual Surveys of Probation and Parole | Link |
| 4/28/2023 | Agency Information Collection Activities; Proposed Collection Comments Requested; Revision of Currently Approved Collection: Annual Survey of Jails in Indian Country | Link |
Bureau of Labor Statistics (DOL) – 1 New Notice
| Date | Notice | URL |
| --- | --- | --- |
| 4/26/2023 | Technical Advisory Committee; Notice of Meeting and Agenda | Link |
Bureau of Transportation Statistics (DOT) – No New Notices
Census Bureau (DOC) – 5 New Notices
| Date | Notice | URL |
| --- | --- | --- |
| 5/18/2023 | Agency Information Collection Activities; Submission to the Office of Management and Budget (OMB) for Review and Approval; Comment Request; Census Household Panel; Correction | Link |
| 5/11/2023 | Agency Information Collection Activities; Submission to the Office of Management and Budget (OMB) for Review and Approval; Comment Request; Census Household Panel | Link |
| 5/8/2023 | Agency Information Collection Activities; Submission to the Office of Management and Budget (OMB) for Review and Approval; Comment Request; Household Pulse Survey; Correction | Link |
| 5/3/2023 | Foreign Trade Regulations (FTR): State Department Directorate of Defense Trade Controls Filing Requirement and Clarifications to Current Requirements | Link |
| 4/28/2023 | Agency Information Collection Activities; Submission to the Office of Management and Budget (OMB) for Review and Approval; Comment Request; Household Pulse Survey | Link |
Economic Research Service (USDA) – No New Notices
Energy Information Administration (DOE) – No New Notices
National Agricultural Statistics Service (USDA) – 1 New Notice
| Date | Notice | URL |
| --- | --- | --- |
| 4/27/2023 | Notice of Intent To Request Revision and Extension of a Currently Approved Information Collection | Link |
National Center for Education Statistics (DOEd) – 17 New Notices
| Date | Notice | URL |
| --- | --- | --- |
| 5/24/2023 | Applications for New Awards; Teacher and School Leader Incentive Program | Link |
| 5/23/2023 | Agency Information Collection Activities; Comment Request; Statewide Longitudinal Data System (SLDS) Survey 2023-2025 | Link |
| 5/23/2023 | Applications for New Awards; Demonstration Grants for Indian Children and Youth Program-Native American Teacher Retention Initiative | Link |
| 5/23/2023 | Applications for New Awards; Education Innovation and Research (EIR) Program-Expansion Grants | Link |
| 5/23/2023 | Applications for New Awards; Education Innovation and Research (EIR) Program-Mid-Phase Grants | Link |
| 5/19/2023 | Financial Value Transparency and Gainful Employment (GE), Financial Responsibility, Administrative Capability, Certification Procedures, Ability to Benefit (ATB) | Link |
| 5/18/2023 | Assistance to States for the Education of Children With Disabilities | Link |
| 5/16/2023 | Proposed Priorities, Requirements, Definitions, and Selection Criteria-Perkins Innovation and Modernization Grant Program | Link |
| 5/10/2023 | Agency Information Collection Activities; Submission to the Office of Management and Budget for Review and Approval; Comment Request; NCES Data Security Requirements for Accessing Restricted Use Data | Link |
| 5/8/2023 | Agency Information Collection Activities; Submission to the Office of Management and Budget for Review and Approval; Comment Request; Early Childhood Longitudinal Study, Kindergarten Class of 2023-24 (ECLS-K:2024) Kindergarten and First-Grade Fall 2023 Materials Revision | Link |
| 5/8/2023 | Agency Information Collection Activities; Comment Request; Program for International Student Assessment 2025 (PISA 2025) Main Study Recruitment and Field Test | Link |
| 5/5/2023 | Applications for New Awards; Personnel Development To Improve Services and Results for Children With Disabilities-Personnel Preparation of Special Education, Early Intervention, and Related Services Personnel at Historically Black Colleges and Universities, Tribally Controlled Colleges and Universities, and Other Minority Serving Institutions | Link |
| 5/3/2023 | Applications for New Awards; Mental Health Personnel Technical Assistance Center | Link |
| 5/1/2023 | National Assessment Governing Board; Meeting | Link |
| 4/28/2023 | Applications for New Awards-American History and Civics Education-Presidential and Congressional Academies for American History and Civics | Link |
| 4/28/2023 | Applications for New Awards-American History and Civics Education National Activities Program | Link |
National Center for Health Statistics (HHS) – 2 New Notices
| Date | Notice | URL |
| --- | --- | --- |
| 5/19/2023 | Agency Forms Undergoing Paperwork Reduction Act Review | Link |
| 5/19/2023 | Proposed Data Collection Submitted for Public Comment and Recommendations | Link |
National Center for Science and Engineering Statistics (NSF) – 3 New Notices
| Date | Notice | URL |
| --- | --- | --- |
| 5/12/2023 | Agency Information Collection Activities; Comment Request; Data Security Requirements for Accessing Confidential Data | Link |
| 5/9/2023 | Advisory Committee for Social, Behavioral & Economic Sciences; Notice of Meeting | Link |
| 5/5/2023 | Sunshine Act Meetings | Link |
Office of Research, Evaluation & Statistics (SSA) – No New Notices
Statistics of Income Division (IRS) – No New Notices